Liebe White-Hats,
was war das für ein mega geiles Event: Let's talk about Security am 15.11.17 bei Microsoft in Köln. Danke für das noch immer anhaltendene positive Feedback. Wir freuen uns riesig, dass unsere Speaker die Idee von der Veranstaltung so genial umgesetzt haben. An dieser Stelle nochmal herzlichen Dank an eure Teilnahme, die Sprecher und Sponsoren. Du warst nicht dabei? Kein Problem hier ein paar Eindrücke:
Ein besonderes Dankeschön an 2kmotion für dieses geniale Recap:
Das nächste Meetup steht vor der Tür und dieses Mal ist es uns gelungen Jochen Nickel als Sprecher gewinnen zu können. Dabei legen wir den Fokus auf die General Data Protection Regulation, die in diesen Tagen in aller Munde ist. Dabei wird Jochen zusätzlich den Microsoft Produkt Stack vereinen.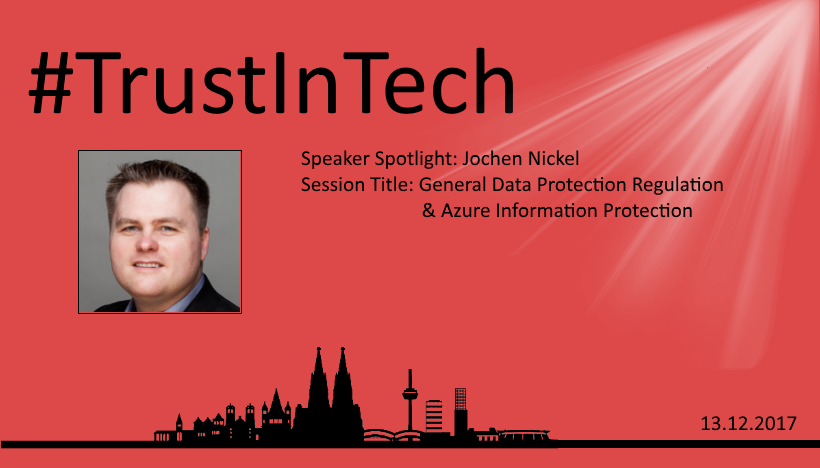 Start your GDPR preparation's now!
(90 min)
Im Mai 2018 wird die General Data Protection Regulation (GDPR) aktiv. Diese wird die bisher gültigen Regeln der EU aus dem Jahr 1995 ersetzen.
Eines der Hauptziele dieser Verordnung ist es, den Schutz personenbezogener Daten zu verbessern. Organisationen müssen wesentliche Änderungen vornehmen, um diese Vorschriften zu erfüllen.
Dieser Vortrag zeigt  ein Vier-Schritte-Programm, um Ihnen als Administrator oder Berater die notwendigen Informationen zur Verfügung zu stellen, die Sie auf Ihrer Reise zur erfolgreichen GDPR-Einhaltung direkt anwenden können.
Wir zeigen Ihnen in praktischen Konfigurationen und Demos mit GDPR konform zu werden.
Control your data with Azure Information Protection, Office 365 DLP and Cloud App Security!
(120 min)
Mit der digitalen Transformation, die Organisationen durchlaufen, wandern die Daten an mehr Standorte als je zuvor, wodurch die Produktivität der Benutzer und die Fähigkeit, auf Daten zuzugreifen und mit anderen zusammenzuarbeiten steigt.
In diesem Vortrag zeigen wir Ihnen, wie Datenklassifizierung und -schutz Ihnen helfen kann, mehr Kontrolle über Ihre sensiblen Daten zu erhalten. Sie erhalten Einblicke, wie die Sichtbarkeit im Informationsaustausch erhöht werden kann und Richtlinien zur Steuerung Ihrer Szenarios für den Informationsaustausch angewendet werden können. Im Detail erfahren Sie aus unserer Projekterfahrung, wie Azure Information Protection und Cloud App Security funktionieren und wie Sie erfolgreiche Szenarien einrichten können.
Wir werden mehrere Anwendungsfälle aus der Administrativen und Benutzer-Perspektive bereitstellen, um Ihnen die Möglichkeiten der Umsetzung und Kombination dieser Technologien für einen Kunden oder Ihr Unternehmen aufzuzeigen.
Über Jochen
Jochen Nickel is a Cloud, Identity and Access Management Solution Architect with a focus and technical deep knowledge of Identity and Access Management. He is currently working for inovit GmbH in Switzerland and spends the majority of each work day planning, designing, and implementing Identity and Access Management solutions, single parts such as Microsoft Azure Active Directory Premium and Microsoft Azure Information Protection, Cloud App Security or complete Enterprise Mobility Suite solutions. He has also been part of many projects, proofs of concepts, reviews, reference architectures, and workshops in this field of technology. Furthermore, he is a Microsoft Technology Ambassaador, Identity and Access Management, Microsoft Switzerland, and uses his experience for directly managed business accounts in Switzerland. He has also been an established speaker at many technology conferences like ExpertsLive Switzerland and Europe.
As an active writer and reviewer, Jochen authored Mastering Identity and Access Management with Microsoft Azure, Learning Microsoft Windows Server 2012 Dynamic Access Control and reviewed Windows Server 2012 Unified Remote Access Planning and Deployment by Erez Ben-Ari and Bala Natarajan, as well as Windows Server 2012 R2 Administrator Cookbook by Jordan Krause, a Microsoft MVP and the Microsoft Identity Manager 2016 Handbook by Jeff Ingalls and David Steadman for Packt Publishing.
Committed to continuous learning, he holds Microsoft certifications such as MCSD Azure Solutions Architect, MCITP, MCSE/A Office 365/Private Cloud, MCTS, and many other security titles such as Certified Information Systems Auditor (CISA). He enjoys spending as much time as possible with his family to recharge, in order to handle such interesting technologies.
Das Event findet dieses Mal bei sepago statt. Es gibt ausreichend Parkplätze und die Veranstaltung ist barrierefrei.
Hier geht's zur Anmeldung:
Trust in Tech- General Data Protection Regulation & Azure Information Protection